The Dog Is in the House (and Other Pet-Related Scenarios Realtors Dread)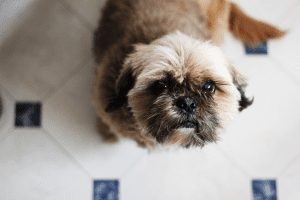 As a home seller, you're right to believe that you should maintain control over your real estate transaction. However, this shouldn't include insisting that your dog stay home during an open house. Neither should he accompany you when you're on the other end of the deal. Why? Read on for a few real-life real estate situations that your agent would rather avoid, as well as tips on how to avoid them from The Kennel Directory.
The house smelled like an animal lives in it.
As a proud pet parent, you probably don't realize the predicament your pet's pungent pong puts you in when your home is on the market. Whether you can smell it or not, you should be aware that your dog's odor is unpleasant to new noses. A quick trip to your local dog groomer will help, along with cleaning any soft surfaces your dog frequents. One of the most effective ways to eliminate sickening smells is to simply leave your windows open.
A puppy left alone in the bathroom during a showing.
Never leave your dog, especially a young puppy, alone in the home during an open house or private showing. Not only will this stress the animal, but will inhibit – or completely prevent – a buyer from fully inspecting each and every room of the home. If you think leaving your dog home is a good way to socialize him, you are wrong. Instead, you can accomplish this task by brushing up on training and then exposing him to social situations with you by his side. Take him for a walk or visit one of the area's many dog parks.
Dogs barking at buyers.
There are many reasons that your dog should bark, and strangers entering your home is certainly at the top of the list. However, when you're trying to sell, quiet is key. Ask any real estate agent and they will confirm that subjecting your buyers to incessant howling is a surefire way to clear the house — and not because you've sold it and have to move the furniture. Dogs, especially noisy ones, impact buyers' overall impression of the home; this sentiment is echoed by agents from coast to coast. Instead of keeping your canine confined to the home while it's being shown, consider letting him bunk in with a close friend or relative. Even better, find a dog sitter or someone who can keep him the night before an open house so you will have time to clean up.
Toys and food scattered everywhere.
Leaving your house untidy is a red flag. Take a few minutes before leaving to pick up after your pet so chewed-up bones and ragged tennis balls are not the first things your potential buyer sees when they walk through the door.
Buyer lets their dog pee on the floor.
No matter how well behaved your dog is at his own abode, there is nothing stopping him from ditching his domesticated disposition at a new home. A dog's brain is hardwired to mark territory and leave their scent as a way to communicate with other canines. When you're the buyer, leave your dog at home to avoid a marking mishap. Furthermore, if your dog causes damage to the home, there's a chance that you will be held liable for the cost of repairs.
While there is certainly no shame in loving your pets like family — not to mention, basking in the benefits of being a paw parent — don't let your adoration adjust your senses so much that it costs you thousands of dollars. Buyers can (and will) lower their offer on your home if they feel that Fido has affected its value. That's why it's best to make arrangements for your furry friend to stay elsewhere during this time — this will benefit your transaction, and your pet will feel safer and more comfortable.
Are you looking to give an animal a loving, forever home? Start your search at The Kennel Directory!